Quintessential Winds - June 9, 2009
Settlement Music School, Philadelphia
Quintessential Winds
Settlement Music School, June 9, 2009
Wind Quintet No. 1 (Serenade for Wind Instruments) - 1931
For the English Wind Players
Gordon Jacob (1895 - 1984)
Room-Music Tit-Bits Nr 3 - Walking Tune - 1904
Percy Aldridge Grainger (1882 - 1961)
trois pièces brèves - 1930
Jacques Ibert (1890 - 1962)
I. Allegro
2. Andante
3. Assez lent, Allegro scherzando
Divertimento No. 1 in B-Flat for Woodwind Quintet, c 1780
Joseph Haydn (1732 - 1809)
arranged by the Philadelphia Woodwind Quintet
I. Allegro con Spirito
II. St. Anthony Chorale, Andante
III. Minuetto
IV. Rondo
Aires Tropicales for Woodwind Quintet - 1994
Paquito D'Rivera (1948 - )
4. Vals Venezolano (To Antonio Lauro)
6. Contradanza (To Ernesto Lecuona)
Terry Seligmann, flute, Laura Redman, oboe, Loren Stata, bassoon, Lindsey Keck, horn, Bob Blacksberg, clarinet
<![if !vml]>

<![endif]>Gordon Jacob, born in London, served in the Field Artillery, was taken POW in 1917, and, fortunately for all who love wind instruments, survived to study, compose and teach at the Royal College of Music, from 1924 to his retirement in 1966. No avant garde he - "I personally feel repelled by the intellectual snobbery of some progressive artists... the day that melody is discarded altogether, you may as well pack up music..." We share three movements of a quintet that displays his deep knowledge of instrumental technique.
<![if !vml]>

<![endif]>George Percy Grainger (stage name Percy Aldridge Grainger), an Aussie, son of a domineering and possessive mother, wrote the smash hit, Country Gardens, and settled in White Plains, NY after WWI. From Wikipedia, "While pregnant, [his mother] allocated time each day to stare at a statue of a Greek god in the belief it would pass some of its qualities to her child. … In 1910, Grainger began designing and making his own clothing, ranging from jackets, to shorts, togas, muumuus and leggings, all made from towels and also intricate grass and beaded skirts. The clothing was not just for private use but were often worn in public by Grainger. He also designed a crude forerunner of the modern sports bra for his Danish sweetheart, Karen Kellerman."
<![if !vml]>

<![endif]>Jacques François Antoine Ibert, of Paris, the seventh of Les Six, wrote beautifully crafted music, rich in the idiom of wind instruments. He scored Orson Welles' 1948 version of Macbeth.
<![if !vml]>

<![endif]> (Franz) Joseph Haydn, Austrian, with a famous sojourn to London. Survived smallpox to become the "Father of the Symphony." One L. Beethoven, Haydn's student, could only write 9, compared to teacher's 108. From Wikipedia - his biographer Dies wrote, "he couldn't understand how it happened that in his life he had been loved by many a pretty woman. 'They couldn't have been led to it by my beauty.'"
<![if !vml]>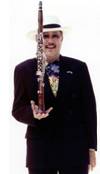 <![endif]>Paquito D'Rivera, Cuban, child prodigy. Many GRAMMYs, National Medal for the Arts, awarded by the then incumbent of 1600 Pennsylvania Avenue, honorary degree from Penn 2008. (Picture not recent.)